Brighten Your Smile With Porcelain Veneers
Porcelain veneers can transform your smile by correcting a wide range of cosmetic blemishes in a short period of time. The thin shells of porcelain attach to the front-facing part of your teeth and are fabricated by technicians at our partner lab. Dr. Chan Wilkhu offers this cosmetic dentistry procedure at his practice in Merritt Island, FL. Dr. Wilkhu is a member of several professional dental organizations, including the American Dental Association, Florida Dental Association, and International Dental Implant Association. He will work closely with our dental lab to ensure your veneers match your surrounding teeth and enhance your smile.
Benefits of Porcelain Veneers
Porcelain veneers offer several benefits, including:
Fast turnaround: You can leave our office with your new veneers in as few as two visits. Once your teeth are prepped, we will work quickly to manufacture your custom veneers, which will be placed during your second appointment.
A natural appearance: The technicians at our partner lab will visit our office to color-match the porcelain to your desired shade. One benefit of porcelain over other materials is that porcelain matches the color, texture, and reflective properties of your natural teeth.
Preservation of natural teeth: While dental implants replace entire teeth and dental crowns require the removal of a significant portion of your enamel, porcelain veneers require only a minimal amount of enamel removal. The minimally invasive approach also means there is no recovery time.
Long-lasting treatment: Porcelain veneers can last 15 years or longer when taken care of properly. One benefit of porcelain is that it lasts much longer than other materials.
Boosted self-esteem: An attractive smile may leave you feeling more confident when speaking in public or among friends.
Are You a Candidate?
Patients should be in good oral health before considering porcelain veneers. Candidates for this procedure often have:
A gapped smile
Significant discoloration
Cracked teeth
Chipped teeth
Crooked teeth
Small teeth
Patients will undergo a dental examination prior to veneers placement, to ensure they are not in need of periodontal care or other dental treatment. Dental issues will need to be resolved prior to veneers placement.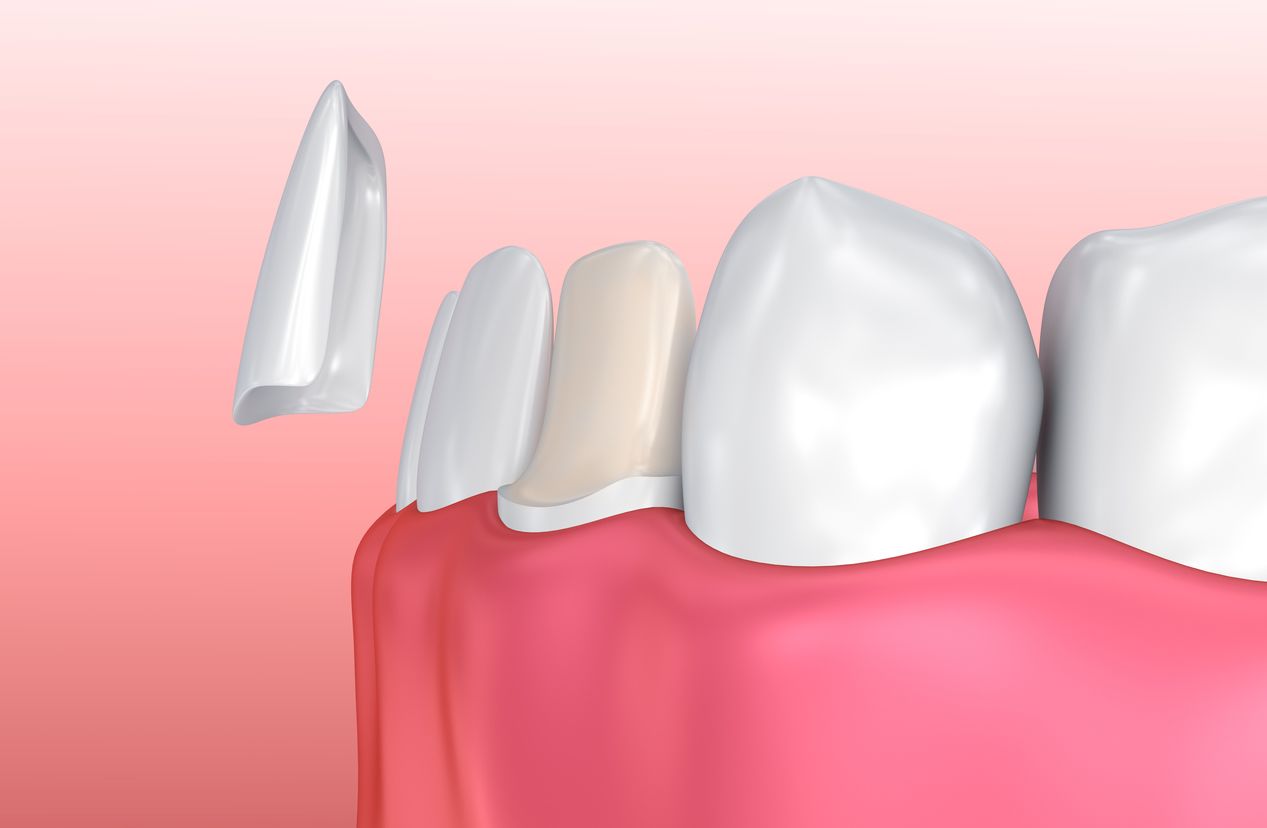 During veneers placement, a small amount of enamel will be removed before placing your permanent veneer.
A Look at the Procedure
During your first visit, and after a local anesthetic is applied, Dr. Wilkhu will prep your tooth by removing a small amount of enamel. This step makes room for the veneer. A temporary veneer may be placed, while your permanent veneer is manufactured. On your return visit, Dr. Wilkhu will remove your temporary veneer before placing your permanent veneer using a strong bonding agent. There is no recovery time required for this procedure. In the days and weeks after your veneer is placed, you may notice that your tooth is sensitive to hot and cold temperatures. This is common, and over time, your tooth will adjust and you will no longer experience sensitivity.
Porcelain matches the color, texture, and reflective properties of your surrounding teeth, making veneers a very attractive choice.
While undergoing this cosmetic treatment at our practice, you can enjoy the comfort of watching Netflix or listening to music in our treatment rooms. Dr. Wilkhu and his staff use the most advanced technology available, such as cone beam CT, digital x-rays, intraoral cameras, and the Waterlase iPlus® system, to ensure your treatments are performed as efficiently and effectively as possible.
Gain an Enhanced Smile Today
Whether you have chipped, discolored, blemished, or small teeth, porcelain veneers offer an effective and minimally invasive option to transform your smile. Our office believes that affordability should not be an obstacle for dental treatments. That is why we accept checks, cash, credit cards, and CareCredit®. We will also be glad to help you file for insurance reimbursement. To schedule your appointment, send us a message or call (321) 265-4426.